Progress from my last post:
Abandoned "Arduino Shield" form factor because it was too small for 4 relays and had too much baggage, ie. unneeded electronics and connections.
Redesigned circuit and PCB into an "Arduino clone" with isolated logic and power sections for safety purposes.
Still to do:
Write Arduino firmware to handle programming the number of boxes and on/off temperature values.
May consider two separate PCBs for logic and power for safety and form factor reasons.
Fabricate PCBs, solder on components and test.
High level connections view: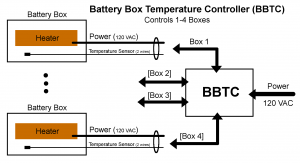 Form factor view: